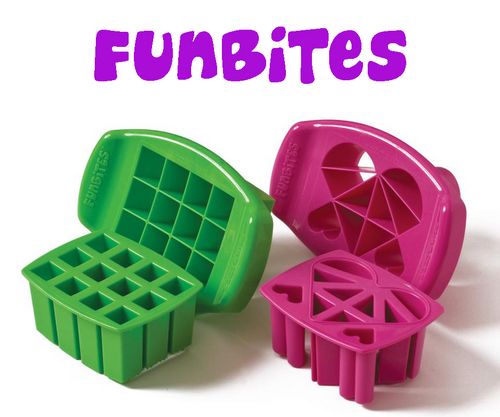 I am a mother of a picky picky four year old that drives me up the wall, especially when it comes to his eating habits. His hotdogs have to be cut a certain way, he doesn't want bread with his hamburger, he doesn't like ketchup drizzled on his fries instead he prefers to dip his fries and best of all EVERYTHING has to to be cut up or broken apart for him to eat it. That's why when I was given the opportunity to review FunBites I immediately said "Yes!".
So what is FunBites? 
FunBites is a great tool that can make prepping snacks and goodies fun for picky eaters, like my Aiden.  It's a really simple concept that is fun and allows you to turn larger foods into bite sized snacks.  FunBites come in a variety of colors and you have the ability to jazz up your little ones favorite snack in different shapes to fit his/her little personality. Choose from hearts, squares and triangles or opt to choose by colors (green, pink or orange).  No matter how you choose your FunBite you can make your snacks a fun size your little Diva or Dude.
What did I think?
What I liked most about this product is that it was easy for my daughter to use, as she typically comes home and prepares their after school snacks.  She quickly and easily cut up cheese and fruit using the tool.  I actually have been laughing at her daily because she sings as she does it.  I like the fact that not only is FunBites easy to use, but it is also safe to use so I feel secure with her making their snack while I am in another room.  There are no sharp blades that can cut your little one and clean up is a breeze, which not only makes it easy for her to do the prepping but also she easily cleaned up her mess.  When testing the FunBites, I didn't have any issues with food sticking to the sides or the insides of the FunBites tool, which again made the clean up process a breeze.
Was there anything that I didn't like?
Being completely honest, which is something you guys know I pride myself in being with my reviews, I enjoyed this product when it came down to working with more solid objects like cheese and fruit, but I had a little difficulty with using the product on bread products as the cut wasn't perfect and a few times the bread tore.  This lead to little Mr. Picky asking me or his sister to redo his snack because heaven forbid he has a piece of torn bread (smile).  Now the Diva in training didn't care about the minor tearing of the bread and enjoyed bite sized peanut butter and jelly sandwiches that she made using FunBites.
Would I recommend FunBites to others?
Yes, FunBites is a product that I would recommend to others and not just for making snacks for your kids.  There are times when I have family/friends over and I prep fruit and cheese trays.  Well FunBites is a great way to cut up your favorite treats effortlessly.  Plus you can get creative with the different shapes and create really cool salads and trays.  Also its a great tool if you have a little Diva or Dude that likes to help in the kitchen, as you don't have to worry about them cutting themselves while assisting you.  You can safely concentrate on prepping other dishes while they are slicing and dicing the fruit, however with that said the kids may be safe using FunBites, but the fruit and cheese tray may not be safe from greedy little helpers.  Oh did I mention Clean Up is a BREEZE!!!
Interested in getting your own Funbites?!?  Head over to the FunBites Website to order yours today!
Learn More about FunBites by visiting their pages listed below!
https://www.facebook.com/FunBites
Disclosure: I was not financially compensated for this post. I received a sample of the product for review purposes as part of a Karma Media Team campaign. The opinions are my own, based on my personal experience with the product.